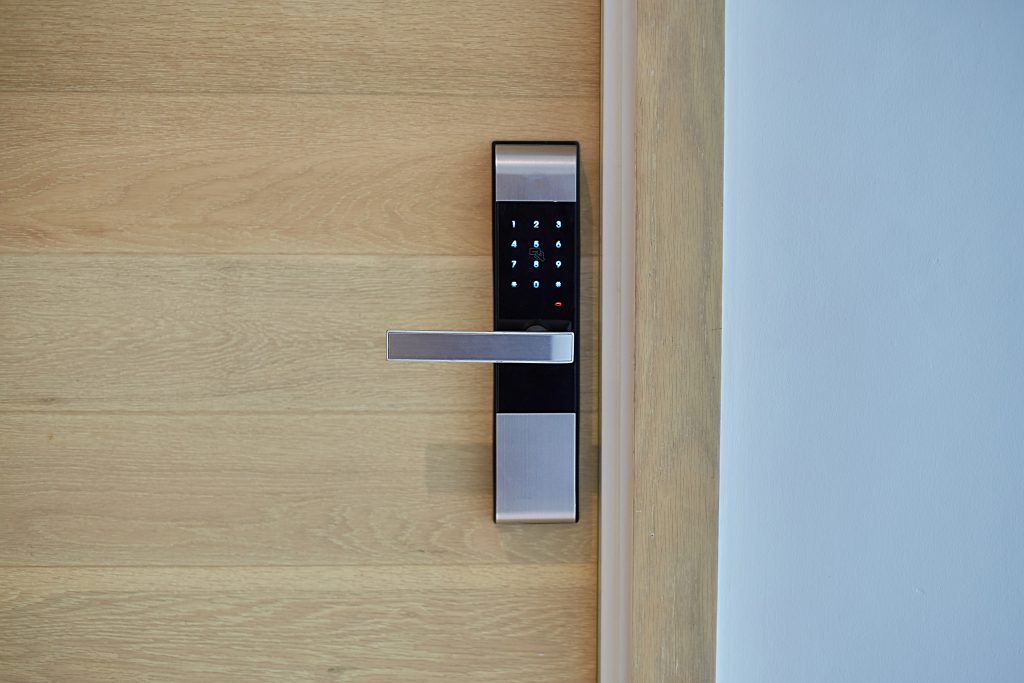 As a business owner or building manager, there are a lot of responsibilities to keep up with, right down to the nuts and bolts — literally. The type of lock on your commercial doors may not be something you put a lot of thought into. However, they are a critical part of your business. 
From security and durability to legal requirements, there's a lot at stake when it comes to selecting locks for commercial doors. Read on to learn more about what types of locks are required in a commercial setting.
ADA Compliance
The Americans with Disabilities Act (ADA) has been in effect since the 1990s and aims to make infrastructure more accessible. Things like automatic doors and ramps are usually associated with ADA compliance, but there are requirements for door locks as well.
The ADA requires that commercial buildings enable those with limited mobility to safely exit in the event of an emergency. Therefore, door locks that meet ADA guidelines must be installed so anyone with a disability can unlock the door and exit.
According to government guidance, this means that all locks and handles must be operable with one hand and must not require any unusual maneuvering, extreme twisting, or strength. This limit ensures that people with disabilities can easily unlock doors in the event of an emergency without the assistance of another.
In addition, no lock hardware can be mounted more than 48 inches above the floor. This requirement ensures that persons in wheelchairs are able to reach the door to unlock it.
For commercial buildings, the most common types of locks that meet ADA compliance are:
Push locks
U-shaped locks
Lever-operated locks
Panic bars
Round door knobs do not meet compliance standards.
No matter what type of business you run, your building must meet these requirements. Failure to install ADA-compliant locks can open you up to litigation or put your local business license at risk.
ANSI Rating
The American National Standards Institute (ANSI) is a U.S.-based, non-profit organization that oversees the development of standards for products and services, including locks.
ANSI has developed a standardized grade methodology that measures the strength and durability of locks and categorizes each lock type as Grade 3, Grade 2, or Grade 1.
Grade 3 is the least secure type. It does not include any anti-pick or enhanced security features and is often the cheapest alternative. These locks are most commonly found in residential settings and are not recommended for commercial buildings.
Grade 2 is the next level up and includes enhanced security features that make a breach less likely. All Grade 2 locks exceed residential requirements but are not recommended for commercial buildings.
Grade 1 is the most secure type of lock and is tested to withstand the harshest break-in attempts as well as significant wear and tear. Locks rated Grade 1 are recommended for commercial buildings because of their durability and safety.
While there is no legal requirement that commercial buildings install a particular grade of lock, it is risky to leave a commercial building unattended with locks that are intended for residential use.
Special Industry Requirements
Few specific regulatory requirements apply to locks on all commercial buildings, but there are some specific industries that must meet heightened standards for commercial locks.
For example, Healthcare facilities or businesses that handle patient records are subject to the Health Insurance Portability and Accountability Act (HIPAA). HIPAA places heightened requirements on the handling of patient records across the board to preserve patient privacy.
Conforming to HIPAA requires that locks meet certain requirements. For example, secured areas must be locked using an access control system, and hardware must be tested regularly to ensure it is in working condition.
Other industries that have heightened commercial lock requirements include:
Critical infrastructure
Data centers
Cleared government contractors
Manufacturing plants
Utilities
These industries generally have more at stake than a typical commercial building and face a heightened risk of break-ins and unauthorized access. Therefore, they must ensure that the locks are top-grade as part of a comprehensive security program.
High-Quality Commercial Locks for All Businesses
CDF Distributors is the leader in secure and accessible commercial locks. Our hardware comes in a variety of grades, sizes, and finishes to meet the standards of any commercial door. Contact us to learn more about our commercial lock solutions.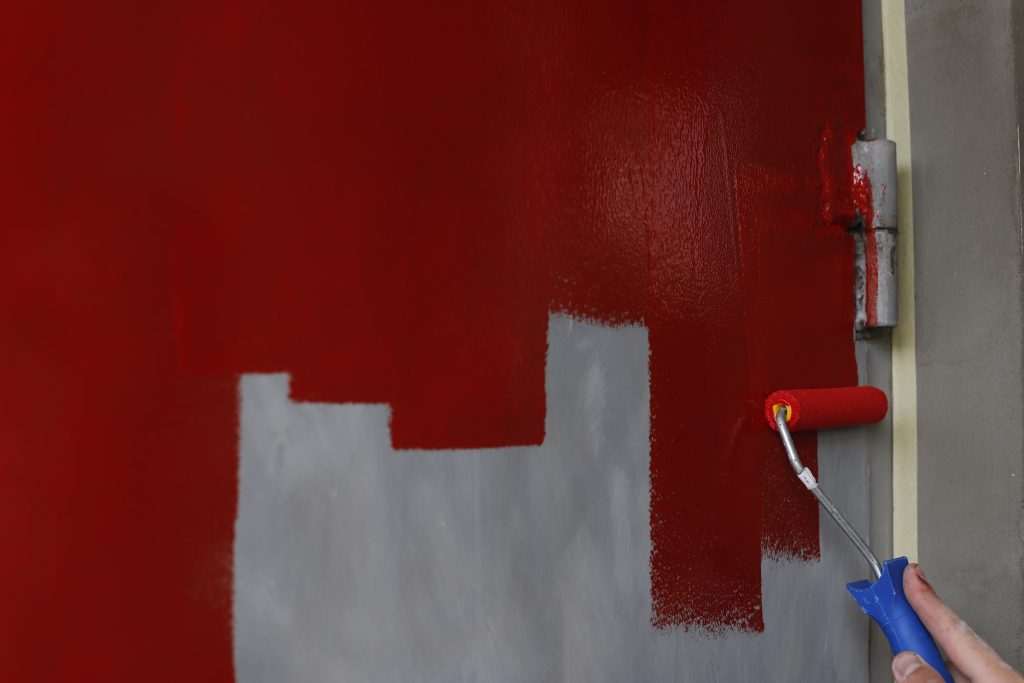 Commercial metal doors are strong and secure. They last for decades when they're maintained. However, commercial metal doors receive heavy usage, and exposure to moisture can cause them to rust, making them look shabby. 
If your commercial metal doors are still in good working order but have paint peeling and are a little rough around the edges, you don't need to replace them. Providing them with a new paint job can breathe new life into them at a fraction of the cost of a replacement.
Where to Start
It's okay to be a little nervous about painting your metal commercial doors; after all, it's a big project. But these 5 helpful tips will boost your confidence and encourage you to give it a go.
1. Clean Them
The first step in painting anything is to provide the surface with a good clean. A metal door that has dust, dirt, and rust requires cleaning before you start any treatment. Brush off any coated dirt or dust, then wipe the door down with a dry cloth.
A mixture of dishwashing soap and warm water makes an ideal degreaser and cleaner. Give each door a thorough wash, and then wipe dry with a clean, soft cloth. Ensure each door is completely dry before you start painting it.
2. Don't Remove Them
There's no doubt that painting a door while it's lying flat is a lot easier than painting one that's still hanging, but there are good reasons to keep your doors in place. First, commercial metal doors are extra heavy to remove and then rehang.
Second, as the door is in a commercial building or is even the entry door, you need to ensure the security of the building is not compromised by removing the door. The less time the door is left open, the better in terms of safety.
You may need to be extra careful with dripping and splatter, but painting a door while it's in place saves a lot of time and effort.
3. Don't Paint over Peeling Paint
If your metal door has peeling or flaking paint, you will need to strip it before repainting. An aerosol paint stripper is a quick way to remove the paint, or you can opt for a heat gun.
Avoid anything abrasive that will damage the metal. If you use a paint stripper, ensure there is plenty of good ventilation as there will be fumes. Always wear a mask for protection. Once the paint is removed, you will need to sand back the surface of the door and prime it correctly.
4. Choose the Right Paint
Metal commercial doors come primed, so while many websites recommend you prime the metal door first, it's not necessary unless it's bare or you have peeled and sanded it.
You have the option of using direct-to-metal paint if there are bare patches. CDF Distributors' metal doors are primed and finished with a premium durable powder coating. We can also paint your metal door in the custom color of your choice.
The best paint to use on a metal door is quality acrylic-latex paint for exteriors. Choose a gloss or semi-gloss as they last longer and are easy to wipe off and clean.
5. Color Matters
Color psychology has proven that color matters. If your commercial metal door is a back door or one that is just used for workers, it makes sense to paint it white, or another color that will hide dust and dirt.
But if your commercial metal door is at the front of your business or is highly visible, the color you choose says a lot about your business. For example:
Orange denotes high-energy and emotional well-being
Gray is comfortable and welcoming
Black denotes success and sophistication
Green exudes warmth and open-mindedness
Pink promotes harmony and romance
Blue is trustworthy
Red creates a sense of urgency
Think about the message you want to relay to consumers about your business and work with the color that represents that message.
While painting your metal commercial doors seems daunting, it can actually be a way to boost the appearance of your business and give it a mini face-lift. However, if you're still unsure whether you want to tackle it, call an expert. Whether you paint it yourself or have it done by a professional, you still reap the benefits of a freshly painted door. 
At some point, your metal commercial door will need more than a facelift. CDF Distributors manufactures a large range of high-quality commercial doors for interior and exterior use. Contact us today for your new door and experience our fast delivery and exemplary customer service.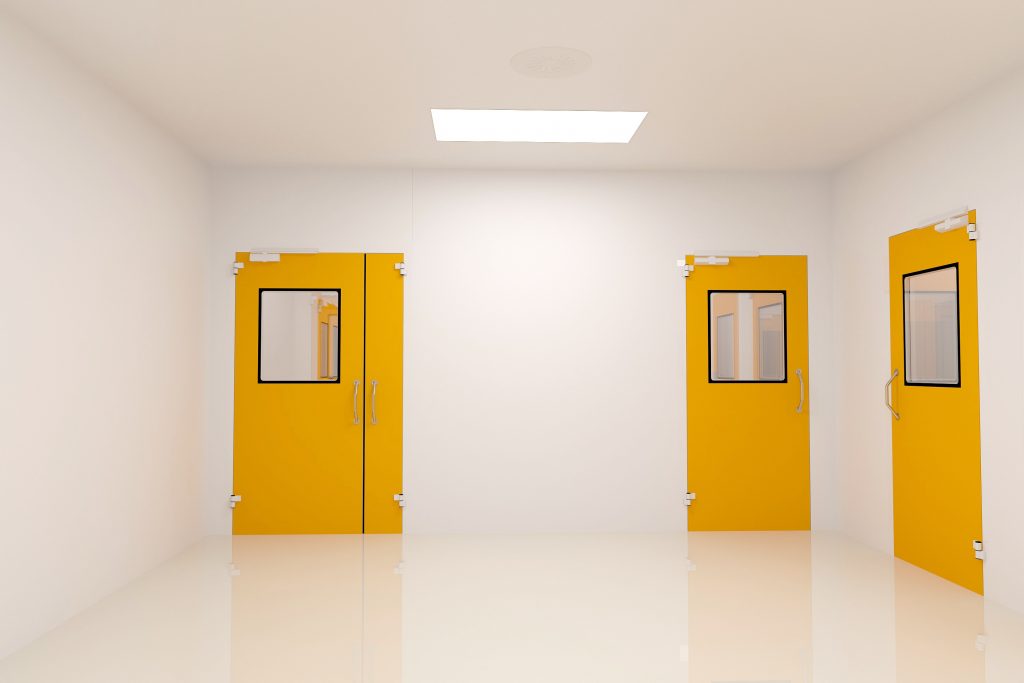 Commercial doors are manufactured specifically for use in commercial buildings, and they are regulated for safety and compliance. The regulations are designed with the safety of occupants in mind. Modern commercial doors offer solid security and safety, but they also come in a range of styles and materials to suit any commercial premises.
Types of Commercial Doors
Because commercial doors are heavily regulated, it is imperative to choose the right doors for the premises. First impressions for shop fronts, restaurants, and showrooms are important, but aesthetics are not enough.
Commercial entry doors provide much more than just an entry point — they keep the business secure and protected. Modern commercial doors can be customized to suit the aesthetic of any business, yet maintain the required safety features and regulation compliance. The most common types‌ of available commercial doors include:
Commercial Wood Doors
Modern commercial wood doors are stylish, yet strong, so they are often chosen for their classic good looks. Commercial wooden doors are made with either solid wood, or thin veneer sheets on the outside, and they are wrapped around a core of particleboard, solid timber, or pressed mineral products.
These doors are used as interior doors as they cannot withstand the elements like a metal door. Commercial wooden doors come as:
Solid core single doors
Solid core double doors
Wood doors with glass kits
Wood doors with louvers
Commercial wooden doors are available with a fire rating from 20 to 90 minutes for added protection.
It's common to use the terms metal and steel interchangeably, but they are actually different materials. Steel is an alloy, and not a pure element, made up of two or more elements — iron and carbon. Metals are naturally occurring and are found in the earth's crust.
Steel is more lightweight than elemental iron, it has greater strength, and a higher melting point. All of these factors make steel commercial doors superior in strength and security to other commercial doors built with different materials. Both metal and steel doors can be fitted with glass kits and fire rated for improved protection.
Glass Doors
Many commercial buildings choose glass entry doors. They offer natural light, high visibility, and a sleek look for any business. Banks, storefronts, medical facilities, offices, and apartment buildings use glass doors.
Glass entry doors are visually attractive, help customers find you and deter criminal activity. They are highly customizable and easy to operate, making them a popular choice for store owners.
Fiberglass Doors
Fiberglass is lightweight and cost-effective, but it has neither the resilience nor strength of other commercial door materials. Modern fiberglass will combust quicker than wood, and because it is lightweight, it cannot offer the same level of protection as other materials.
However, there are benefits to fiberglass doors — they are non-porous, low-maintenance, don't shrink in the elements, and are energy-efficient.
There are a lot of solid choices when it comes to commercial entry and interior doors, and when you buy from a reputable commercial door company, you will receive high-quality doors that will last you many years.
How to Choose the Correct Commercial Doors
There's a lot to consider when choosing the right doors for our business, as you not only want them to look great, but they also need to be secure and functional at the same time. When you are trying to decide which doors are right, consider the following:
Your needed level of security
Your budget
The aesthetic of your business
Type of business
Are they indoor or exterior doors?
How large is the entry?
How much fire resistance do you need?
How much maintenance will the doors need?
Do you need high visibility?
What environmental factors need to be considered?
Once you narrow down what your business requires, the choices become more streamlined. If you're still unsure what would work best, contact a reputable door manufacturer and discuss your options.
Leaders in Commercial Door Manufacturing
CDF Distributors manufactures high-quality commercial doors for interior and exterior use in a range of materials and styles. We can customize your commercial doors so that they are perfect for your business. Contact us today to discuss our huge range of commercial doors and hardware.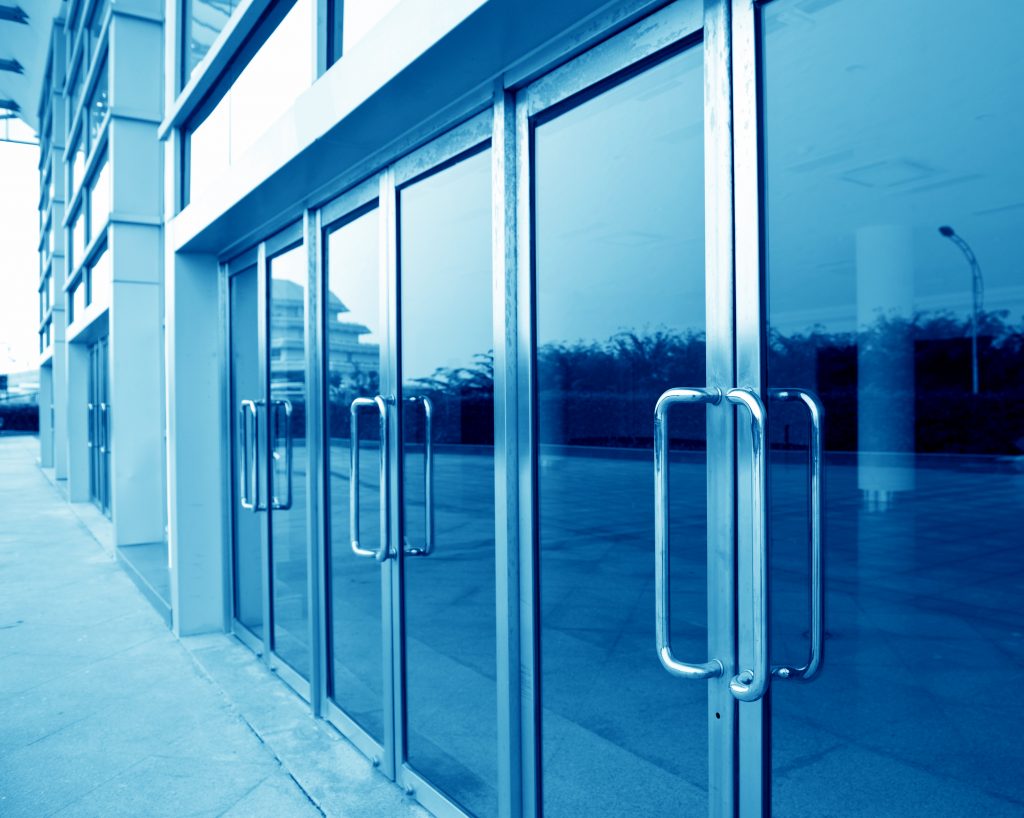 Whether you're having commercial doors installed for the first time or are replacing current doors, it's a large undertaking that you need to be prepared for.
If you are installing the door yourself or you have commissioned a contractor, some preparation work is required. The better prepared you are, the smoother the installation process will be.
How Long Does Installation Take?
A simple commercial door installation will take an experienced contractor from 30 minutes to an hour, but it can take considerably longer for more complicated door setups. Hiring a reputable contractor will keep the installation time to a minimum, and they will have all of the correct tools and equipment.
Installation Preparation Tips
Because the commercial door installation process is involved, and it includes steering around business activities and groups of people, preparation is vital to keep things running smoothly. Some preparation tips to help you navigate the process include:
Consider Traffic Flow
Commercial door installation will disrupt productivity unless you can have it performed on a day that your business isn't operating. This solution often isn't an option, so the first thing you'll need to organize is rerouting the traffic flow in and out of the building through another door if you are having entry doors installed.
The contractor will need a lot of room to perform the installation, so block access to the entry from the inside and outside and have a staff member direct the traffic flow if necessary.
Clear the Work Area
The safety of the contractor, staff, and customers is of vital importance, so ensure that the area around the door is clear and set up barriers to contain the installation process.
Security is another issue if entry doors are missing, as this will allow direct access to the premises. Depending on the type of business you're in, security guards are an option. You might also consider a barrier erected to stop entry.
Consider the Weather
The weather is another consideration as the last thing you want is an open space at the front of the building during heavy snow or a sweltering hot day.
Fall is a good time to have the doors installed as the weather is milder, and there are fewer bugs to keep out. Weather extremes are also best avoided to reduce the expanding and contracting of the materials.
Unfortunately, a door installation may be required as a matter of urgency, and in that case, you have no option to wait for better weather. You can still help by keeping the work area clear and waiting until the last moment before removing the current doors.
Confirm Delivery and Contractor
The last thing you need is a door that doesn't make it on time or a contractor who doesn't show. When you order your high-quality commercial doors from CDF Distributors, you can be assured your doors will turn up fast and on time. We strive to be the fastest in the industry, and we work hard to keep our commitment.
Once you have scheduled a contractor to perform the installation, confirm the booking two days prior and then again the day before to check that there are no delays. Spend time finding a reputable contractor to work with.
Have the Right Equipment
If you're a competent handyperson and will be installing the commercial door yourself, have all of your equipment ready. A reputable commercial door manufacturer will have installation instructions available with a list of tools, equipment, and hardware you need to install the door.
When you have this prepared a few days prior to the installation, you have time to chase up anything that you may have missed. If you are a novice, make sure you research the local building codes and guidelines so that you know you are installing the door and hardware correctly and lawfully.
Have Keys or Accessories Ready
How you secure your commercial entry door is something to consider. Do you have keyless entry, keys, sensors, card swipes, or automatic openers? Once the door is installed, you will need to be able to enter and exit immediately, so have security codes, cards, or keys ready.
Don't Forget the Paperwork
Commercial doors are bound by building codes and safety regulations, so all paperwork will need to be in order prior to scheduling the installation. An expert installer will be up to date with the codes and standards so consider a professional installation to ensure you have all of the correct paperwork and permits.
Order a New Commercial Door
CDF Distributors manufacture top-quality commercial doors to suit any business at affordable prices. Contact us today for expert advice on a new commercial door, or build a quote on our easy-to-use online template.
A door is a moveable barrier that allows a person to enter or exit premises. Doors provide access, security, and safety from the elements. Almost every structure requires a door, but the type of structure determines the type of door that is required.
Commercial and residential doors have essentially the same underlying function, and that's allowing access and providing security. But they have numerous differences, and it is these differences that determine their functionality.
What Is a Commercial Entry Door?
A commercial entry door is a door that provides access to commercial premises such as schools, hospitals, businesses, factories, and office buildings.
These doors are made to withstand greater usage and more force than residential doors face, and they provide greater security. They are manufactured specifically for commercial use and are not interchangeable with residential doors.
Commercial Doors and Residential Doors — The Differences
There are obvious differences between commercial and residential doors, but it's more than just how they look. Residential doors come in a large range of styles and colors, but commercial doors also come in a vast range of visual options.
In fact, commercial doors are highly customizable to suit all manner of commercial businesses. The major differences between commercial and residential doors are:
Codes
Commercial entry doors are required to meet a range of building codes and specifications. These codes cover protection, emergencies, sizing, hardware, disability access, and more. Residential properties also have codes regarding egress doors, but they are not as stringent and regulated as doors for commercial properties.
Size
Modern commercial entry doors are generally much larger and taller than residential doors. The specifications for the size of the doors are dictated by building codes with a minimum width of 32 inches and a maximum of 48 inches. There are exceptions, including medical facilities.
The height of a commercial door is to be a minimum of 80 inches tall, and the thickness a minimum of one-and-three-quarter inches. Commercial entry doors are usually better insulated than residential doors. Residential doors are most commonly 36 inches wide and have a height of 80 inches.
Hardware
Because commercial doors receive so much use, they require hardware that can withstand the force yet is safe for employees and customers. As a rule, commercial hardware has an ASI grade of one or two, with one being the most heavy-duty.
Commercial building requirements specify that the door hardware is UL Listing and ADA Compliant. Residential entry door hardware is generally a grade three, as it doesn't receive the same wear and tear.
Material
Modern commercial entry doors are the frontline of security, so they need to be strong. CDF Distributors manufactures high-quality steel commercial doors, commercial wood doors, aluminum glass storefront doors, fire-rated doors, and prefinished wood doors. Not only are they strong, but they meet all commercial door codes and requirements.
Residential entry doors are made of wood, metal, or fiberglass, and they can be fitted with deadbolts for security, but they are unable to withstand the same amount of force and regular use as commercial entry doors.
Locks
Like other mounting hardware, commercial entry door locks need to be of a higher grade than residential door locks. Commercial door locks are usually heavy-duty grade 1 locks, which are the most secure and the strongest for heavy use.
Strength
A business of any type holds confidential personal information, machinery or equipment, financial records, and stock. Every commercial site needs the security of a strong entry door for protection.
Not only is the strength needed for security, but as commercial entry doors are opened and closed repeatedly, they need to be able to withstand constant use without splitting or breaking.
Cost
When it comes to buying a residential entry door, you can buy a cheap one or a very expensive one. It comes down to how you want it to look and how strong you need it to be.
Commercial entry doors need to meet building codes and standards, so they are generally more expensive. Less expensive commercial doors are available, but they don't have the lifespan of a high-quality commercial entry door.
When it comes to choosing a commercial door, it's a wise investment to go with a reputable manufacturer who will stand by its product. You can't put a price on safety, security, and quality.
Superior Quality Commercial Doors for Every Business
Commercial doors have to withstand heavy traffic and constant use. They must also meet strict building codes and safety standards in a way that residential doors do not.
CDF Distributors manufactures high-quality commercial doors that are suitable for every commercial structure. Contact us today for a quote on a brand-new commercial door for your business.
The number of fire and smoke-related deaths in the USA are staggering, but the good news is that they appear to be decreasing. Considering there are over 3000 fire-related deaths in the US each year, it makes sense to do everything possible to reduce the risks.
Fire-resistant doors are an effective way to help prevent injury and death from smoke and fires, but there are 6 commonly believed myths about these doors that need to be busted because of the safety risks they create.
What Is a Fire Rated Door?
A fire-resistant door is one that is designed to slow down and prevent — as much as possible — the spread of smoke and fire. These doors are generally installed in public or commercial buildings, and while they can be constructed of wood, wood and glass, or fiberglass, the sturdiest fire-resistant doors are made of metal.
Every component of the door is fire resistant, including the hardware, glass (if any), glaze, and frame.
Fire-resistant doors come with a fire rating from 20 minutes up to 180 minutes, and when installed by a professional, the door will not combust before its rated time. Not only are these doors fire resistant, but they also offer protection from extreme force and some blasts.
6 Commonly Believed Myths
Fire-resistant doors are passive fire protection as they don't serve to extinguish a fire but instead reduce the spread of fire and smoke and provide a safe exit. A fire-resistant door will allow more time for occupants to escape a burning building, and this is valuable time that saves lives.
There are a number of misconceptions about fire-resistant doors which must be dispelled to prevent unnecessary fatalities.
Myth 1: They Are Fireproof
Each fire-resistant door is made of combustible materials, and after a certain period, it will burn. A fire-resistant door with a 90-minute rating will withstand the spread of a fire for that length of time, and then it will combust. Those 90 minutes are crucial in reducing the spread of fire and allowing occupants to vacate the premises safely.
This myth is false. The lock on a fire-resistant door needs to be fire rated to comply with regulations. Metal may seem unbreakable, but in the event of a fire, it can melt very quickly under extreme heat. Every component on the fire-resistant door needs to be fire tested and compatible.
Myth 3: You Can Fireproof a Standard Door
This presumption is a particularly dangerous myth that needs correction. A fire-resistant door is manufactured to be fire-resistant — it's not something that is added to an existing door.
Every part of the design and production of a fire-resistant door is made to a standard that will meet legal specifications. Adding a coat of fireproof paint will not change a normal door into a fire-resistant door, and it will do nothing to slow the spread of fire and smoke.
Myth 4: Gaps Around the Door Don't Matter
The size of the gaps around a fire-resistant door matters. Too much space allows hazardous smoke and fumes to penetrate. The National Fire Protection Association allows for a gap at the bottom of a 90-minute door of no more than three-quarters of an inch.
With less space around the door, there's better protection against smoke and fumes, but it does not have to be airtight. Fire doors must be kept closed during a fire to stop the fire from spreading.
Myth 5: They're Ugly
There's no doubt that some fire-resistant doors are ugly, especially the older style fire doors, but that has changed. CDF Distributors makes fire-resistant doors in a variety of stains, finishes, and sizes, but with all of the safety features and standards required. They can be customized to suit your premises and design style.
Fire-resistant doors are also available in wood and fiberglass in a range of styles and sizes. They can come fitted with fire-resistant glass panels or louvers.
Wood, glass, and fiberglass fire-resistant doors meet all of the required fire safety specifications. They are durable and strong. However, they have a shorter lifespan than a high-quality commercial fire-rated metal door.
Fire-resistant doors are designed to protect and prevent smoke and fire-related injury and fatality. In order for them to serve their purpose, the common myths need to be dispelled.
High-Quality Commercial Fire Rated Entry Doors
CDF Distributors are the leaders in commercial fire-rated entry doors in a variety of sizes and finishes. All of our doors and hardware meet the highest standards and safety requirements. Contact us today for superior service and commercial fire-rated doors.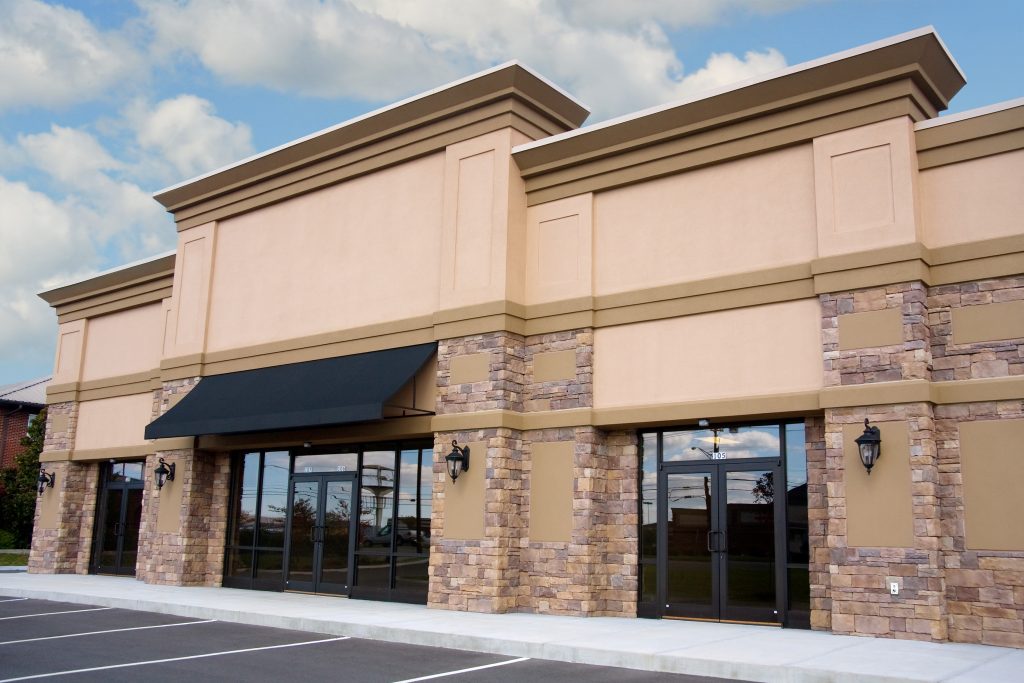 Commercial doors have a very specific role, which is where they differ from residential doors. A commercial door is designed to be opened and closed repeatedly, so they are built to withstand vigorous use.
Constructed of metal, wood, or glass, commercial doors are strong and durable, made to last for many years. But even though they are made to last, your commercial entry doors require maintenance to keep them in tip-top condition.
Why Do Commercial Entry Doors Require Maintenance?
Commercial entry doors are the way in and out of your business, and you need them to be fully functional. Not only are they the entry point, but when your business is closed, your doors provide security to what's inside. They are the first line of defense.
Modern commercial entry doors can be fire-rated and hurricane-rated, which means that the protection they provide is crucial to your safety. Regular maintenance of your commercial entry doors will ensure they continue to protect your business and employees when needed the most.
Maintenance Tips for Commercial Entry Doors
If your commercial front entry door malfunctions, it will disrupt your business and the traffic flow in and out of the premises. The best way to prevent malfunctions is regular maintenance and fast repair if any damage is detected.
Your best place to start preventing problems is to have professionals install high-quality commercial doors from CDF Distributors. It may be tempting to cut costs and install a lesser-quality door, but a high-quality commercial entry door is an investment in your business.
If the doors are only opened a few times a day, they will require maintenance at least once per year, but any more usage than that requires quarterly maintenance. Make sure you schedule the maintenance in advance so that it will not be overlooked. Maintenance should include the following steps:
Thorough Inspection
All maintenance starts with an inspection of the doors. This inspection includes checking for signs of rust and any wear and tear. Check the hinges and locks, closers, handles, rubber seals, and door frames.
If the door is glass, look for tiny cracks or scratches. Metal doors need to be checked for dents and any bowing or scraping. Make a habit of inspecting the door regularly and repairing any damage as soon as it's noticed.
Tighten Loose Parts
A screwdriver is all you need to tighten any loose parts. Check for missing screws and replace them immediately. A heavily used commercial entry door has to withstand a lot of pressure so screws can come loose.
Lubricate Hinges and Locks
Start by giving hinges and locks a good clean with a damp cloth, and then dry them off and apply the lubricant. A silicone spray is ideal for lubricating the hinges and locks to ensure they glide smoothly and prevent rust. Lithium grease is also a good option, and it has the benefit of being dust-resistant.
Clean the Doors
Commercial entry doors are touched and used continually, so they require a good clean every few months. Start by dusting the metal doors with a dry, clean cloth. Use a dishwashing soap in warm water and give the door a good clean. When you're done, wipe them off with a soft rag.
Clean Around the Doors
The entry to your commercial premises should be kept clean and clutter-free to allow the door to open and close without interruption and to prevent traffic flow issues.
Ensure that your commercial doors aren't being propped open using any type of makeshift door stop, as this will damage the door and the hinges. Clear any dirt or debris from the floor under the door to prevent scraping.
Regular maintenance is vital to keep your commercial entry doors functioning effectively, but at some point, they will need to be replaced. However, well-maintained commercial doors will outlast unmaintained doors by years.
High-Quality Commercial Entry Doors
If you are regularly maintaining your commercial doors and having all damage repaired promptly, you should get between 20 and 30 years out of them, but eventually, they'll need replacing. If your business is ready for new doors, call the professionals at CDF Distributors for high-quality commercial entry doors.