Step 1:
Click bright blue button at the top of the page that says "Get Quote Now." This button will take you directly to the interactive door selection process.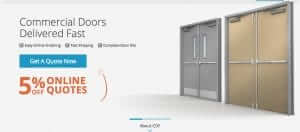 Step 2:
Next, scroll through the options and select a door from a variety of materials including wood, metal and metal building doors.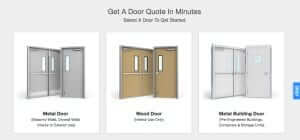 Step 3:
Upon choosing a material, you will be directed to select a door type. Here you will decide whether you need a single or double door and whether you would like to include a frame.
Step 4:
Once you have decided on the material and type of door you need, it's time to specify the measurements. For two-door options, your door width choices range from 4 to 8 feet wide; for single-door selections, you may choose doors from 2 to 4 feet wide. Each choice includes inch indicators for rough openings and actual sizes, for quarter-inch precise measurements.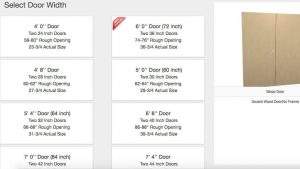 Step 5:
After you have selected your door width, you will be directed to choose the height for your door. The choices range from 80 inches up to 8 feet.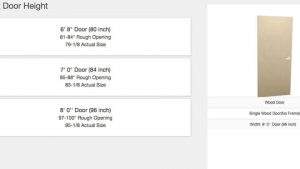 Step 6:
Now that you have selected your material, type, width and height, we may select your hinge locations. Keep in mind that these are measured from the top of the door to the top of each hinge. The hinge variety includes CECO, Curries, Steelcraft, Mesker and Pioneer. You are also give the choice of "I don't know" should you be unsure of your door hinge needs. Each option lists five measurements for hinge distances: center of lock, top, upper middle, lower middle and bottom.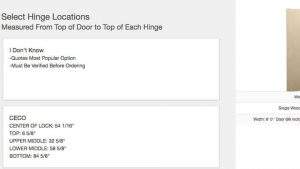 Step 7:
Next you will be directed to choose a door handle. This step includes several styles for left and right hand door handles. Consider the movement in context of the door placement when choosing inswing, reverse or outswing egress. You will also be given the option of installing an inside or outside key as well as an exit device.
Step 8:
Now that you have designed all the basic elements of your new door, you will be given the option of fire-rating your door. This indicates the amount of time the door is rated to withstand a fire. For the wood door selection, the fire ratings will range from 20 to 90 minutes. Here you are also given the "I Don't Know" option, should you be unsure of your buildings' requirements.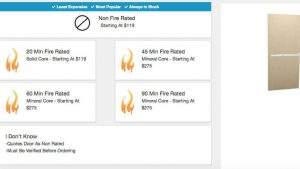 Step 9:
Now it's time to select your kit, indicating whether you want glass and what size glass you might need. There are five options listed, with 4 by 25 inches being the most popular. Additional options include 12 by 12 inches, half or full glass.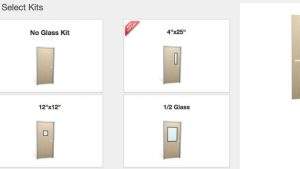 Step 10:
Now you may select from four louver kit options. This indicates the window shutters with horizontal slats which are angled to allow light and air while keeping out rain, direct sunshine and noises. Here you are given four options starting with the no louver choice.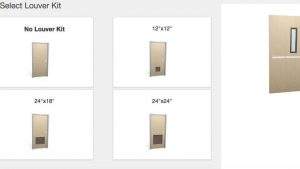 Step 11:
As you complete your door selections, you may choose the finishing type. For a wood door selection, the choices include an unfinished birch door, clear pre-finished birch or a pre-finished wood door. Here you will find prices for non-rated and fire-rated doors as well as shipping options. The pre-finished wood door marked "special order" allows a variety of finish selections such as golden hickory, dark oak, cherry, mahogany, dark walnut, cinnamon, fruitwood and more.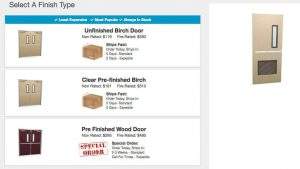 Step 12:
Before we get to shipping, select your hardware package. For a wooden single-door the options include an RIM exit device with a lever, an RIM exit device (exit only), door hinges only or no door hardware. Here you may also choose additional accessories such as a floor stop, kick plates, kick down door holder or wall stop.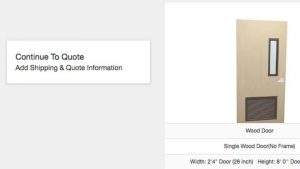 Step 13:
Once you have finished your hardware and accessory selections, you will be prompted to confirm your quality choices. Congratulations! You have completed your door package. If you would like to add to your purchase, you may choose "Add another door package." If not, you may choose "Continue to quote" and add any comments you might have regarding the quoting process.
Step 14:
Finally, you will be prompted to select residential, commercial or a construction site shipping destination. Next you'll type in the shipping country, state and zip code. Additionally, you may choose the type of delivery service you prefer. If you have a forklift or an unloading crew, a self-unload option is available. If not, you may select the $50 lift-gate unload option.
Step 15:
The price may vary depending on how soon you will be placing your order. The options range from 1 to 6 weeks or "I don't know," if you're just checking prices. Now input your contact details (i.e. company name, email address, phone number, etc.), and you will receive your quote within minutes of analyst review.
Remember if at any time you have questions, you can select the little blue "chat" icon to the right of your screen for immediate assistance.