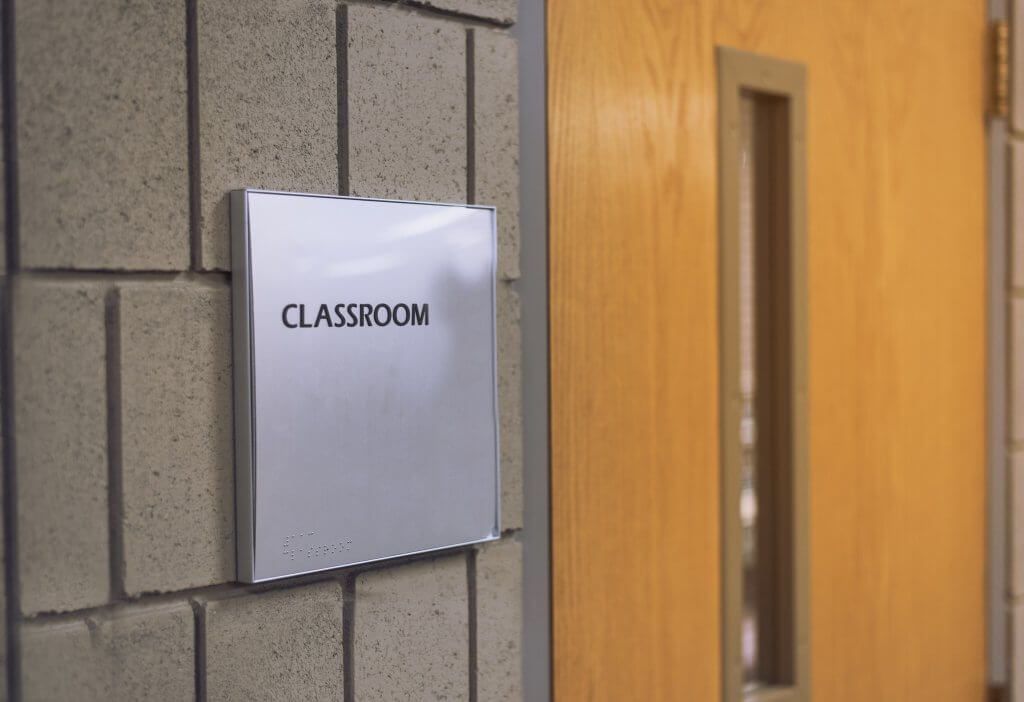 While the design and structure of a traditional school or business setting should provide a building with a professional and uniform outward appearance, setting a good first impression for employees and guests is still important.
The style of doors that you use in your business will play a key role in accomplishing this task. A bland, windowless doorway can be off-putting and result in a room feeling restrictive.
On the other hand, a light kit offers a simple way to create a safer and more inviting work or school setting. By allowing additional lighting to flow through the window and providing a glimpse into the room, you can improve the perception of the space and can completely refresh the mindset of people who enter the room.
What Exactly is a Light Kit?
A light kit is essentially a small pane of glass that is installed into a commercial interior door. These light kits are also interchangeably referred to as "lite" kits or glass kits. These windows can be installed in wood or steel doors, depending on preference and the needs of an individual business. The kits can be placed on a single door or on matching dual doors.
There are several variations of glass available for light kits. The most common type is known as tempered glass. For businesses that are security conscious, wired glass can be installed that is especially resistant to damage. There is also a fire-rated glass that is available for use on fire-rated doors only.
The size and shape of the light kit will vary based on the style of the door and your individual preferences. For example, CDF Distributors currently offers the following four glass kit options: 12" x 12", 6" x 27", half glass, and full glass. The reinforced glass options are limited to certain styles and window sizes.
Aesthetics
When people enter your facility for the first time, setting a good first impression can make the difference between a repeat customer and lost business. Door light kits convey a sense of transparency, which has become increasingly important to consumers in recent years.
In addition, light kits also offer an immediate upgrade to the aesthetics of a facility. Light kits provide a stylish but professional look to the room that can make a guest feel much more welcome. Paired with flawlessly finished wood or steel doors, light kits can combine function and appearance.
Safety
Light kits offer many benefits to consumers. In addition to offering an aesthetic upgrade, light kits improve the security and safety of your business or organization. Windowless doors do not allow any insight into what is outside of a classroom or conference room, which can be a concern for security. By adding a light kit to interior doors, staff can make sure that it is safe to exit in the event that an evacuation is necessary.
Reinforced light kits can still provide adequate security while allowing a potentially vital view outside. Impact-resistant windows have wiring built in between the panes of glass to prevent break-ins. These can also be made to be fire-resistant.
Wood doors with light kits can have a fire rating of up to 90 minutes, while steel doors and kits can offer up to three hours of fire resistance.
How to Choose the Right Light Kit
Choosing the right light kit for your facility starts with deciding which goals are the most important to you. If wired glass or fire-resistant doors are a priority, then the 12" x 12" square pane or the 6" x 27" pane would likely be the best choices for your business. The square pane is placed towards the top of the door and is centered between the two sides, while the rectangular light kit is off-center and closer to the door handle.
If the goal is a maximum field of view, then the half- or full-pane window kits are tough to beat. These kits cannot be paired with fire-resistant doors, though.
Whatever your commercial door needs may be, the professionals at CDF Distributors can fulfill your order quickly and at the best prices around. Reach out to us today to Build a quote!