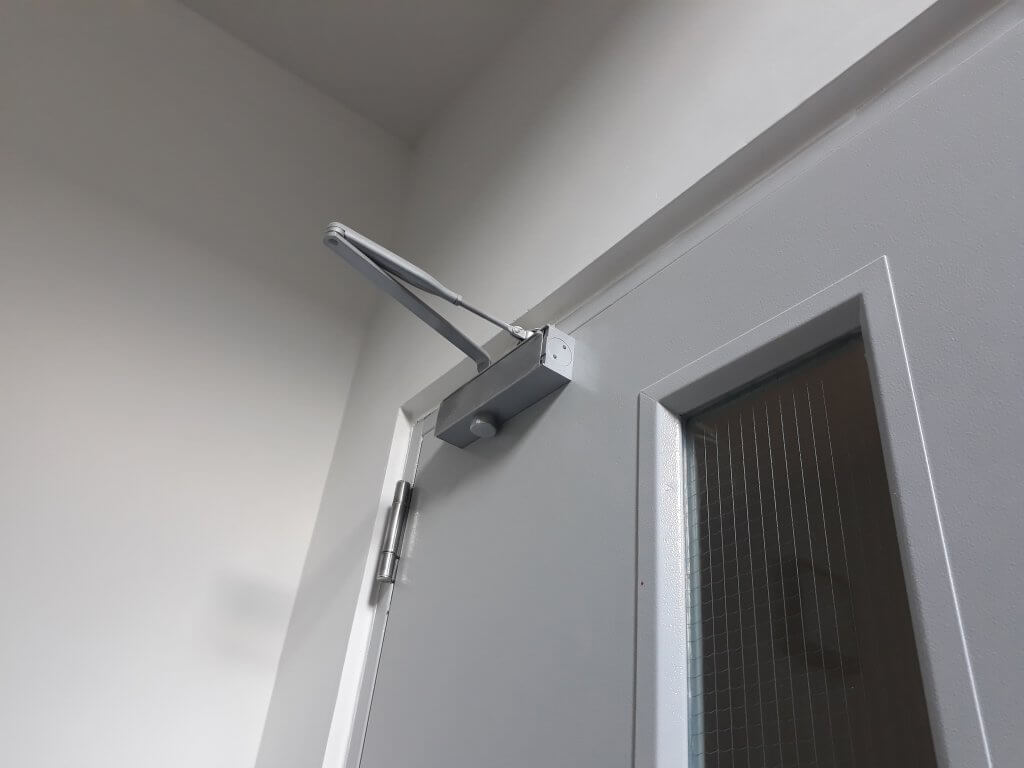 Commercial buildings depend on steel doors for their functionality and durability. Not only do steel doors offer greater security, but they also offer greater energy efficiency as compared to other materials. With proper maintenance, you can increase the overall lifespan of your steel doors and prevent safety issues associated with defective hardware.
In this post, we'll show you the best practices for maintaining your commercial steel doors.
How to Clean Your Commercial Steel Doors
You should clean your exterior and interior steel doors on a regular basis. This practice isn't just cosmetic; your doors may have structural problems concealed by a layer of grime! Cleaning your doors will allow you to perform a thorough inspection.
Steel doors should be cleaned with a soft cloth and a gentle cleanser. Soap and water are usually sufficient to clean your doors. Stay away from steel wool or other materials that can leave scratches in the steel or paint. Also, avoid pressure washes at all costs.
Inspect Your Steel Door
With your door clean, you can now perform a thorough inspection. While steel doors tend to vary in their design, keep an eye out for the following problems when completing your inspection:
Chips/cracks or peeling paint
Cracks in the glass
Cracks in the door frame
Damage to weatherstripping
Stains or signs of water damage
Damage to hardware (locks, handles, hinges, etc.)
If you see some of these problems, don't panic. There are some basic maintenance steps you can take to prolong the lifespan of your commercial steel door.
How to Paint a Commercial Steel Door
Consider freshening up your weathered steel doors with a new coat of paint. Bear in mind this can be tricky because steel doors aren't necessarily compatible with just any form of exterior paint. Ideally, you should use paint that's compatible with your door's manufacturer. The best product will be durable, non-toxic, and rust-resistant. Most acrylic and oil-based paint can be used for this purpose.
If you have older doors, you may run into a problem known as "saponification." Over time, the primer and paint can wear away, allowing moisture to form zinc oxide on the door's surface. Zinc oxide can combine with other oils to form a layer that can attack any new paint you apply to it. You may need to consider stripping as much of the original paint from the door and applying a fresh topcoat.
Check the Hardware
Next, you'll need to take care of your door's hardware. Commercial steel doors see quite a bit of wear and tear, so it's essential to check the hardware to ensure safety and functionality periodically.
Tighten Loose Hardware
Grab a screwdriver and tighten any loose screws you see on the door hardware or frame. Replace any missing or damaged screws, and ensure that the door fits well within the door frame.
Lubricate Hinges
Check your door hinges for wear and rust. Lubricate the hinge pin or hinges to reduce noise, as well as metal-on-metal friction. WD-40 is an excellent product for this, as it not only lubricates the hinge but its chemical properties inhibit the spread of rust.
Seals and Gaskets
The seals and gaskets around your door frame provide a protective barrier against the elements. Be sure to clean them regularly so that the door achieves a proper seal. You should also spray the seals with silicone grease at least twice a year.
If the seals or gaskets become damaged, replace them as soon as possible to maintain security and energy efficiency.
Clean Locks
Finally, clean and lubricate your door locks. The exterior locks can be cleaned with soap and water, just as you used on the rest of the door.
You can maintain the door lock itself with a dry lubricant. Simply spray your lubricant into the keyway, then run your key back and forth inside the lock. You can also remove the entire locking mechanism and apply lubricant to both the latch and bolt.
Time for a New Commercial Steel Door?
Of course, preventative maintenance can only take you so far. When it's time to replace your outdated steel door, contact the team at CDF.
We offer various door styles and features, and our stock items can be shipped in as little as three to five days. Use our "Build a Quote" feature to see how CDF can improve the look and security of your commercial building.