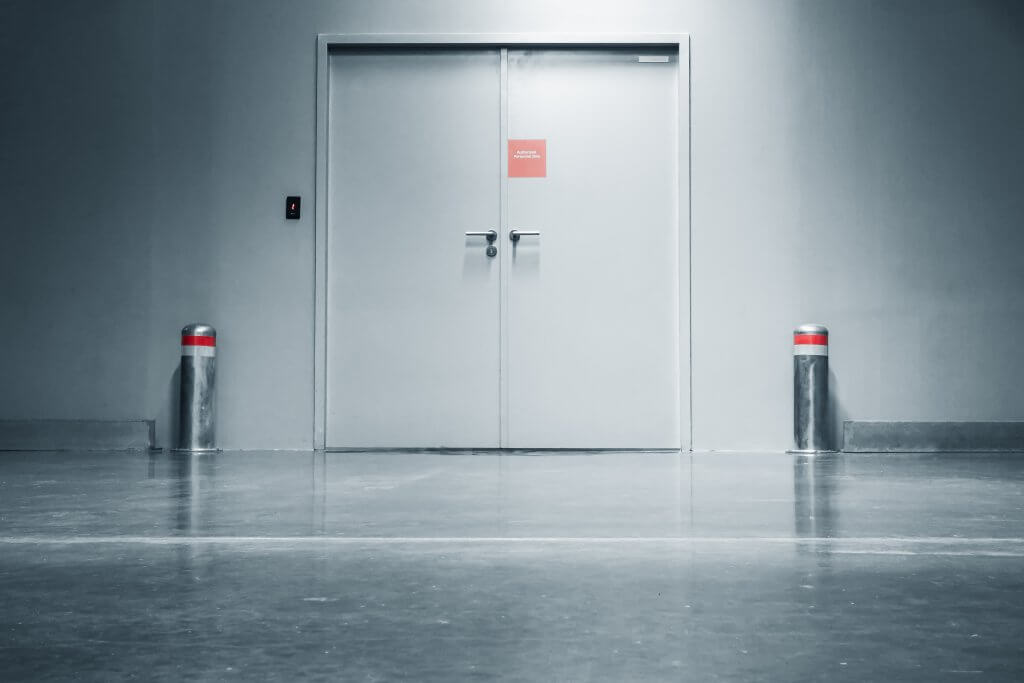 The myriad of entry door systems available today can be slightly overwhelming for a business owner. Historically, wood doors were the product of choice for many commercial buildings.
Selected for their beauty, however, many of these doors lack the features of their competition. As a result, an increasing number of building owners are now opting for steel entry doors. So which kinds of doors will best suit your particular facility?
Today, we'll delve into the advantages of one of the most trusted door options for commercial business: The steel door.
What Is a Steel Door?
Contrary to popular belief, steel doors are not solid steel. Solid steel is very heavy, which makes it an impractical option for doorways.
To create a steel door, manufacturers cover a polyurethane or polystyrene core with a steel skin. Industry standards require that the steel used be 20 to 26 gauge. A wood frame, also known as a stile, encases the door.
Now that you have an understanding of the product, let's take a look at the advantages of installing a steel door.
1. Durability and Low Maintenance
Steel entry doors are durable and built to last. They are tolerant of weather and will not warp over time. Steel doors need little to no maintenance and are resistant to:
Bowing
Cracking
Oxidization
While these doors can become scratched or dented over time, repair is inexpensive and simple.
2. Security and Safety
As a business owner, the safety of your employees and assets is a top priority. This is particularly true for companies that handle a lot of cash or a lot of inventory.
Most steel doors are bulletproof and chemical resistant. Comprised of some of the strongest materials around, they provide an unrivaled level of security.
Steel entry systems don't just prevent unauthorized access; many are also fire-resistant. This means that, in the event of a fire, they can withstand high heat levels for 20 minutes or more. This often provides the necessary time for everyone to evacuate to safety.
When you're considering your options, check the attached fire-rating sticker on your door. This indicates exactly how long it will hold up to the heat.
3. Energy Efficient
Protecting your property against unwanted visitors isn't the only function of a door. Another primary purpose is to retain energy inside of the building.
Steel doors provide almost five times the insulating protection of other doors. There are two elements that contribute to this energy efficiency:
The use of high-grade thermal adhesives at connection sites and joints
High-quality insulated foam that fills the hollow inner core
This energy efficiency translates into significant savings on your utility bills.
4. Cost
Steel entry doors offer a cost-effective alternative to solid wood doors. Durability, low maintenance, and energy efficiency allows them to deliver significant long-term value.
5. Curb Appeal
With steel door entry systems, you do not have to sacrifice beauty for security. Modern steel doors are available in a variety of finishes and styles. They can even utilize glass insets.
Do Commercial Steel Doors Make Sense for Your Building?
Most commercial steel doors are 100% recyclable, adding a layer of environmental friendliness. They are also durable enough to withstand environments with harsh conditions. If you're located in an area with high temperatures or precipitation, a steel door is a worthwhile investment.
Key Features to Look for in a Steel Door
Now that you are familiar with the advantages of a steel entry door, it's time to research your options. Keep these key features in mind to choose the right one:
Doors comprised of one continuous piece of steel offer added durability and strength
Energy efficiency increases in doors with composite end caps
A thermal barrier and special adhesives can minimize the transfer of cold and heat
Rigid composite locks provide added security
Mechanical interlocks strengthen the structure
Opting for a steel door with these features will increase your return on investment, keeping unwanted visitors and the outside elements at bay.
Are you considering a steel door for your commercial property? The team at CDF Distributors can help! With extensive knowledge of commercial doors, we can help you to find the doors that will be a perfect fit for your facility.
With eight warehouses spread throughout the United States, CDF Distributors proudly serves all 50 states. If you want to explore the benefits that come with a steel door, we can walk you through your options. Simply give us a call today!